The AFI Fest 2019 was held between November 14-21 in Los Angeles. We were there at the location.
The AFI (American Film Institute) itself "dedicated to educating and inspiring artists and audiences through initiatives that champion the past, present and future of the moving image" The non-profit organization established in 1967. AFI's pioneering programs include the most popular and very much respected AFI FEST just as the AFI Life Achievement Award.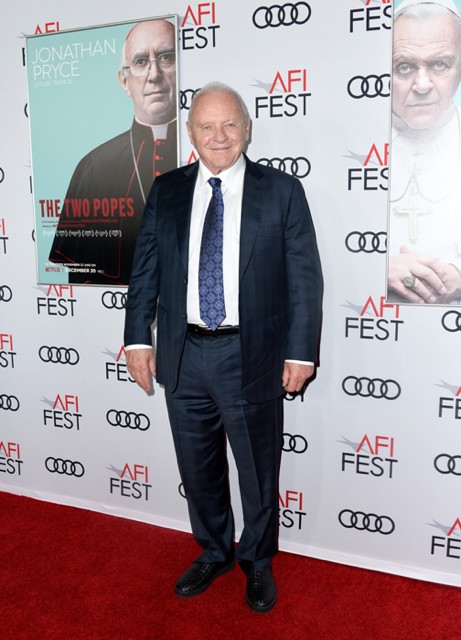 The program of the AFI FEST this year included 143 titles – 81 features, 1 episodic, 40 shorts, 21 AFI Conservatory Showcase Shorts. The festival was proudly announced that 51% of the films were directed by women. This year's program represented 52 countries, and included 8 official International Feature Film Oscar® submissions as well as three World Premieres. Now in its 33rd year, AFI FEST presented by Audi is a world-class event, showcasing the best films from across the globe to captivated audiences in Los Angeles.
A Gala Screening of Season 3 of The Crown opened the festival. Creator Peter Morgan and the main cast appeared on the red carpet before the screening, including Acadamy Award winner lead actress Olivia Coleman.
Biggest success of the festival earned by Armenian director Garin Hovannisian with his documentary 'I Am Not Alone'. The film is a breathtaking eye-witness documentary about the 2018 Armenian revolution. The film also won the Audience Award.
Martin Scorsese, Alan J. Pakula and Peter Morgan on this year's festival tribute list. Denzel Washington Receives AFI Life Achievement Award at emotional, inspiring tribute in Hollywood.
Eva Longoria enjoyed a panel conversation with dr. Stacy Smith about the under represented Latino culture and talents in Hollywood. The title of the conversation was 'Erasure of Latinx in Film'.
The many highlights of the festival include Conversations with Peter Morgan and Martin Scorsese. and a conversation with Ted Sarandos, Netflix's Chief Content Officer, and Suan Ruskin, Dean of the AFI Conservatory and EVP of the AFI Institute, exclusively for the AFI Fellows.
Many VIP guests and artists attended on the festival included Mahershala Ali, Gillian Anderson, Kathy Bates, Noah Baumbach, Beyoncé, Olivia Colman Snoop Dogg, Erin Doherty, Clint Eastwood, Flea, Harrison Ford, François Girard, Tom Harper, Joshua Jackson, Daniel Kaluuya, Jack Kilmer, John Lithgow, Melina Matsoukas (AFI Class of 2005), Fernando Meirelles, Tobias Menzies, Josh O'Connor, Edward James Olmos, Clive Owen, Dev Patel, Natalie Portman, Rob Reiner, Rihanna, Sam Rockwell, Evan Ross, Tracey Ellis Ross, Kelly Rowland, Howard Shore, Molly Sims, Jada Pinkett Smith, Zendaya. (not full list).
The AFI announced that the festival will hold its 2020 edition next October 15-22.
The list of winners AFI Fest 2019:
Audience Award – Feature
I Am Not Alone
(DIR Garin Hovannisian)
Audience Award – Short
Lost & Found
(DIR Orlando Von Einsiedel)
Grand Jury Award – Live-Action Short
Exam
(DIR Sonia K. Hadad)
Special Jury Prize—Live Action
Mthunzi
(DIR Tebogo Malebogo)
Special Jury Prize—Live Action
Liberty
(DIR Faren Humes)
Grand Jury Prize—Animated Short
Something To Remember
(DIR Niki Lindroth von Bahr)
Grand Jury Prize—Documentary (tie)
A Love Song For Latasha
(DIR Sophia Nahli Allison)
The Clinic
(DIR Elivia Shaw)
***
Michael Berk, left, Dr. Edna Sims, Edward James Olmos and James Pickens Jr.Steve Cohn Photography
The Caucus of Producers, Writers & Directors' 37th annual Caucus Awards honored industry leaders and awarded finishing funds to several students to complete their thesis films.
The dinner November 15 at the Skirball Cultural Center emceed by Grey's Anatomy's James Pickens Jr. featured the bestowing of 2019 honors on the likes of Carolyn Strauss (Producer), Showtime's Gary Levine (Executive), director-producer Paul Miller (Lifetime Achievement Award) Edward James Olmos (Industry Icon).
Over the past 18 years, the Caucus Foundation has awarded almost $2 million in finishing funds and in-kind services to students at accredited colleges and universities.
Here are this year's winners
Producer Honor
Carolyn Strauss
HBO's Game of Thrones, Chernobyl, Deadwood: The Movie
Writers Honor
Brett Johnson, Michael Tolkin
Showtime's Escape at Dannemora
Director Honor
Amy York Rubin
Netflix's Dead to Me
Executive of the Year Award
Gary Levine
President of Entertainment, Showtime Networks, Inc.
Lifetime Achievement Award
Paul Miller
Saturday Night Live, Country Music Awards
Industry Icon Award
Edward James Olmos
Zoot Suit, The West Wing, Stand and Deliver, Mi Familia, Mayans, M.C.
Distinguished Service Award
Michael Berk
Writer, Producer, Actor & Creator, Baywatch
Chair's Award
Dr. Edna Sims
Caucus Public Relations Director
1st Place Gold Circle Student Award Winner
Aaron Fink
Rust, Chapman College
2nd Place Gold Circle Student Award Winner
Kelly Pike
Undercut, UCLA
Television/New Media Award
University of Southern California
Side Effects
2019 College Students Grantees
Aaron Fink for Rust, Chapman University
Madison Gwinn for Marketa In The Desert, Emerson College
Alexandra Geller for Undercovered, Emerson College
Noah Graham for Outsider, Emerson College
Jasmine Galdamez for El Mozote, CSUN
Takai Ginwright for Canary In A Mine, UCLA
Kelly Pike for Undercut, UCLA
Virág Vida